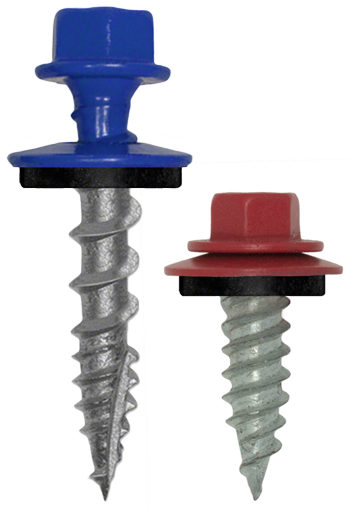 When fastening your new metal roofing or siding you need the proper screws to complete your project. At Michigan Steel & Trim, we have all the metal roofing and siding screws you need in stock and in the color to match your siding, roofing, and trim; giving your building a polished look.
Our Metal Roofing and Siding Screws
Sealtite Kwikseal Woodbinder II: To give your project superior hold and durability, our standard metal roofing and siding screw is threaded to transition from fine to coarse. To further protect the look and appearance of your roof or siding, the Kwikseal Woodbinder's sealed washer provides a tight seal that prevents rust and corrosion around its edges.
Sealtite ZXL Woodbinder: An excellent choice for galvalume metal roofs and siding, our long lasting, resilient screw is backed by a 40 year warranty. Guaranteed not to rust around the screw head and washer, the ZXL Woodbinder is crafted with threads that transition from fine to coarse to provide maximum strength and longevity.
SFS WoodZAC HiLo: If you're looking for a top-quality screw to deliver hold and durability, the WoodZAC HiLo is your perfect choice. With a Zinc alloy cap head, you never have to worry about red rust. To further the life of your project, this metal screw has a high hex washer head to provide driving stability, quick installation, and security against harsh weather conditions.
SFS Woodgrip ™ HiLo: Metal roofs and siding projects require resilient screws. The Woodgrip HiLo's high hex washer head provides driving stability and a Type 17 milled point for fast installation. With a VistaCoat® limited warranty and premium coating system, this screw is your premier choice for metal panel to wood applications.
Available Screw Sizes: Our screws are stocked in two standard sizes: 1-½" and 2-½".
Your project deserves the right accessories to give it the clean, polished look you desire. At Michigan Steel & Trim we can include all you metal roofing and siding screws in one order with the rest of your materials and deliver them right to your door step. Request your quote today or schedule your statewide delivery.